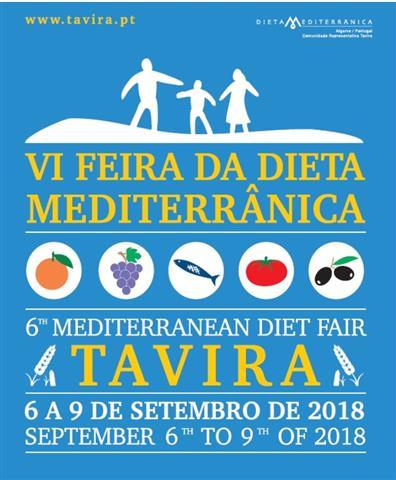 The 6th edition of the Mediterranean Diet Fair, included in the Safeguard Plan approved by UNESCO results, like the previous ones, from the inclusion of the Mediterranean Diet on the Intangible Cultural Heritage of Humanity List of UNESCO, on 4th December 2013 in Baku, along with the inclusion of Portugal and Tavira as its representative community.
The Mediterranean Diet arises, four years after its inclusion, with a growing relevance, nationally and internationally recognised by science, culture and economy as a valuable contribution for the environment preservation and climate changes, the sustainable agriculture, the reinforcement of regional economies, the community health and healthy nutrition, the protection and fostering of cultural diversity, in line with UNESCO Conventions.
The Fair meets the purposes of conveying the ancestral values of the Mediterranean Diet, the legacy of the civilizations which gave rise to our identity, language and culture.
The 2018 programme reflects the work of a broader partnership, with the institutional fair and the presence of other countries, national and regional institutions, producers' market, botanical and seeds shows, conviviality square, catering industry, tasting, snacks, music and other performing arts, poetry, exhibitions, projections, visits to the cultural heritage and many surprises.
There will be a programme especially focussed on children and young people, cooking workshops, counselling and prevention of cardiovascular accident, information on nutritional health, physical activity and many artistic offerings of Mediterranean origin.
The gourmet, festival and fraternity cultures shall be under the spotlight.
The 6th Mediterranean Diet Fair encourages relationships for human cooperation, intergenerational get-together and common purposes and resources sharing.
In this programme and in the visit to the Fair you will find many attractions all over the Historic Centre and the surrounding area.
Tavira waits for you.
Welcome to the 6th Mediterranean Diet Fair!
Fonte: Muncípio de Tavira